Salamis Star
---
A Star sailing the blue swirling Mediterranean Sea.
This Model Cruise-Liner offers just the right combination of elements to make a cruise unforgettable.

The Salamis Star is built to offer relaxing days and nights in a fully air-conditioned environment with comfortable cabins, excellent cuisine, and a full entertainment program ranging from live music and dance shows to lucky casino nights! The swimming pool and the solarium offer just that extra touch of luxury.
She is not currently in service - please see
Salamis Cruise Lines from Cyprus
For the current sailings or
Cyprus Cruises from Cruise Cyprus - Take a trip on a cruise ship to Egypt or Israel whilst on holiday, a ferry from Athens to Limassol ferries from Italy or the UK. Mini cruises to Rhodes, the Greek Islands, Lebanon, Beirut, Syria and the Holyland on a Louis Cruises or Salamis cruise ship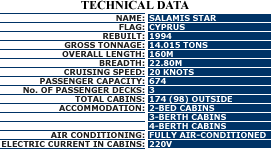 Cabin Decks and Categories
F
Deluxe 2 bed or 3rd bed (sofa bed)
Outside with bath & W.C Minibar & T.V
Promenade
E
Superior 2 bed or 3 berth
Outside with shower & W.C Minibar & T.V.
Promenade/Upper
D
2 bed,3 berth or 4 berth. Outside with shower & W.C
Promenade
C
2 bed,3 berth or 4 berth. Outside with shower & W.C.
Upper
B
2 bed,3 berth or 4 berth. Inside with shower & W.C.
Promenade
A
2 bed,3 berth or 4 berth. Inside with shower & W.C.
Upper
Copyright © 2001-2018 Cruisecyprus.com. All rights reserved.

Revised: April 07, 2018